Why are Startups Considering Outsourcing Software Development?
14 Dec 2022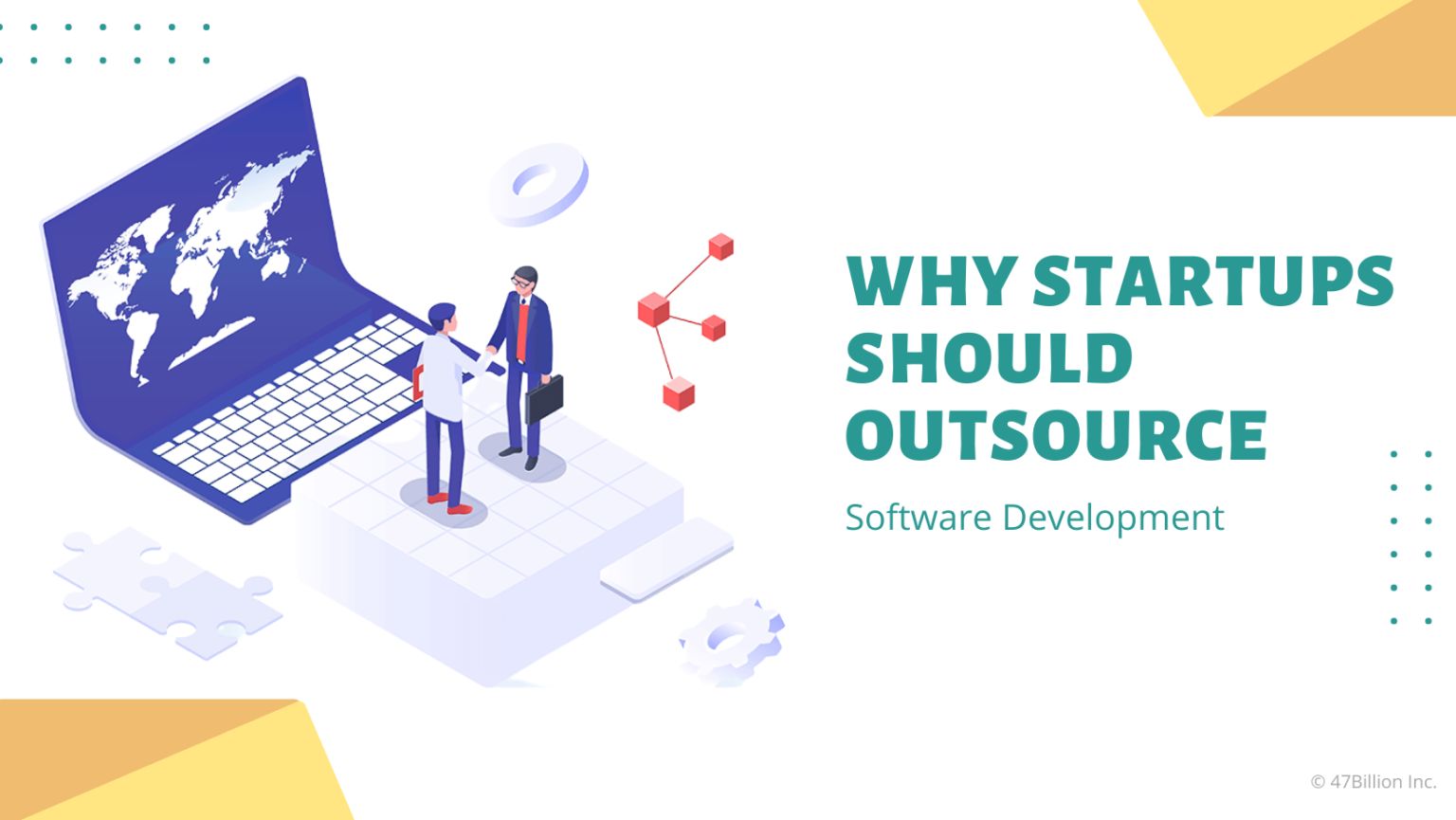 Upwork, the world's largest talent marketplace, leads by example. 75% of their product and development team were freelancers. Their success is the testimony of hiring the best talent worldwide. Interestingly, they used an earlier version of their platform to source their team and successfully proved their product's relevance.
Whatsapp launched with a starting capital of $250,000. Therefore, their priority was to keep operational costs at a minimum. It was impossible to develop from their HQ in mountain view, California. The co-founder, Jan Koum, found the best offshore developers onboard for product development.
Similarly, a WISP billing company outsourced its web app development to 47Billion to streamline billing and customer management. The successful deployment of the scalable, extensible, web-based, cloud-hosted platform helped the company to migrate 100+ ISPs within one year, and the overall revenue multiplied significantly.
Read the success story here –ISP Billing System redefined
Launching a digital startup and successfully managing it on track is a resource-intensive activity. For most startups, finding excellent and cost-efficient resources remains the biggest challenge. A great product idea requires perfect execution. How can an organization make the most of the limited resources and successfully achieve short- and long-term goals?
As a startup founder, you have two options: either hire a team of in-house resources for design and development or outsource your product development.
In this blog, we will explore the pros and cons of Outsourcing.
Product Development for Startup- What makes it specialized?
Startups and emerging companies often-
seek to validate their idea
capture an audience
create a profitable revenue model.
Their goals shape their IT infrastructure, management, and software development process. The significant difference between software development for startups and established companies is –
Innovation-focused: Enterprises are often tied with legacy infrastructures, meaning they must refactor their systems to implement the latest technologies. On the other hand, startups can pick a modern architecture that integrates with current technologies such as AI-powered analytics and machine learning.
Easily scalable: Unlike large-scale industries with on-premises infrastructure, most startups choose cloud-based infrastructures. More than 60% of companies choose cloud platforms for operational scalability.
Flexible development: Decision-making and variations based on current trends are much faster in startups as there are fewer stakeholders. Methodologies focus on teamwork, automation, and iterative development.
Time-sensitivity: Up to 19% of startups fail as they miss their window of opportunity. There is a limited time to capture the market fit.
Limited scope: Startups and enterprise software usually aim at different audiences. Smaller businesses try to fix a specific challenge and fill the niche market gaps. Enterprises have a broad vision and target other companies, which is why the software they develop have more features.
Challenges of Custom software development for Startups
Here are some limitations you should be ready for during the software development lifecycle –
Unrealistic estimation: Software projects often run over a budget and take longer than expected because companies neglect technological complexities, scope changes, and additional risks. As a startup founder, you should have enough resources to support your startup post-launch, which requires a long-term plan with post-release goals and an allocated budget.
Short-term goal approach: Up to 14% of startups fail because they need to focus more on initial research and tend to ignore their customer inputs. You should be ready to pivot based on the audience's feedback on your product, features, and business model.
Lack of data security initiatives: According to a study by Logic Monitor's Cloud Vision 2020, security 66%, compliance 60%, and data privacy 57% have become significant challenges for IT professionals. Even a single data breach can have a devastating impact on the company.
Ineffective methodology: The development can go off the rails without proper development guidelines or processes. Organizations should understand that they should be familiar with iterative methods to maximize productivity and establish quality assurance and expense control.
A scarcity of resources and tech capabilities: Finding competent full-time resources with relevant tech expertise is difficult for emerging businesses. You also need experienced project managers to plan, track and schedule the development process. There might be a requirement to augment the in-house team with third-party talent or outsource parts of the project.
Outsourcing to the rescue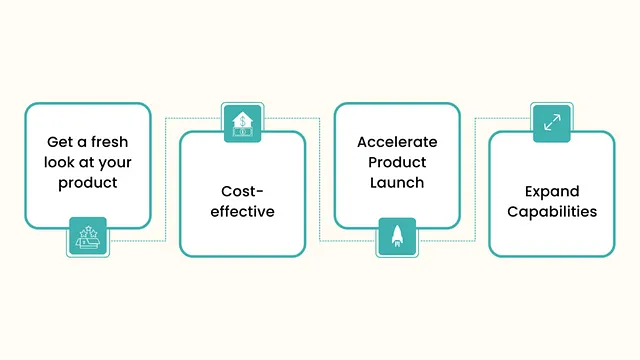 Cost savings: Hiring an in-house team of designers and developers implies providing training, hardware, software licenses, and workspace to the employee. Outsourcing labor dramatically cuts the costs associated with training and infrastructure. India, the Philippines, Mexico, Argentina, and Poland are popular offshore outsourcing choices.
Product development expertise: Companies specializing in product development services have resources that have experience in product management and development lifecycles. This helps keep software development on priority while steering away from potential cliffs.
Scalability: Startups are primarily concerned about their ability to scale the product effectively in evolving landscape. The initial product scope may grow and shrink based on customer needs and requirement changes. Thus, outsourced development teams can add the ability to adjust labor accordingly. The software development service provider can quickly add new developers to the team because they have a large pool of already hired and trained developers.
Specialty skills: At the inception of the software development life cycle, the involved organizations conceptualize and outline all expected features and tech required for the project. If the skills are not there in the in-house development team, then Outsourcing is a good option. Instead of hiring and training a new member, an external expert handles that particular component.
Making the most out of Outsourcing
Realizing ideas into consumer-ready products is the goal of young enterprising startups. The significant pressure to demonstrate their capabilities as well as USPs to the market and investors creates challenges. With small internal teams, startups have low recruiting and operating budgets. These difficult odds result in early failures. Around 90% fail, and over 20% fall apart in the first year. Innovative businesses are vital to surviving in the early years. Software development is crucial but has many specialties and technology requirements. Hiring permanent developers can be an expensive and lengthy process. Thankfully Outsourcing can resolve these challenges at every stage of development.
The most popular messaging app, WhatsApp, outsourced its app development and is now valued at over $19.3B. Several giants like Slack, Upwork, Alibaba, Opera, and MySQL have greatly benefitted from using software development outsourcing during their lean startup days.
Ideation and planning are the first steps in hiring an outsourced development team. Once the planning phase is complete, the team can design the software's layout and structure. Then starts coding and then testing. Associating with an experienced product development company helps reduce your time-to-launch and go-to-market. You can access resources capable enough to build, upgrade and maintain your digital products. Read end-to-end development process.
Share