47Billion Receives Another 5-Star Rating on Clutch
20 Sep 2019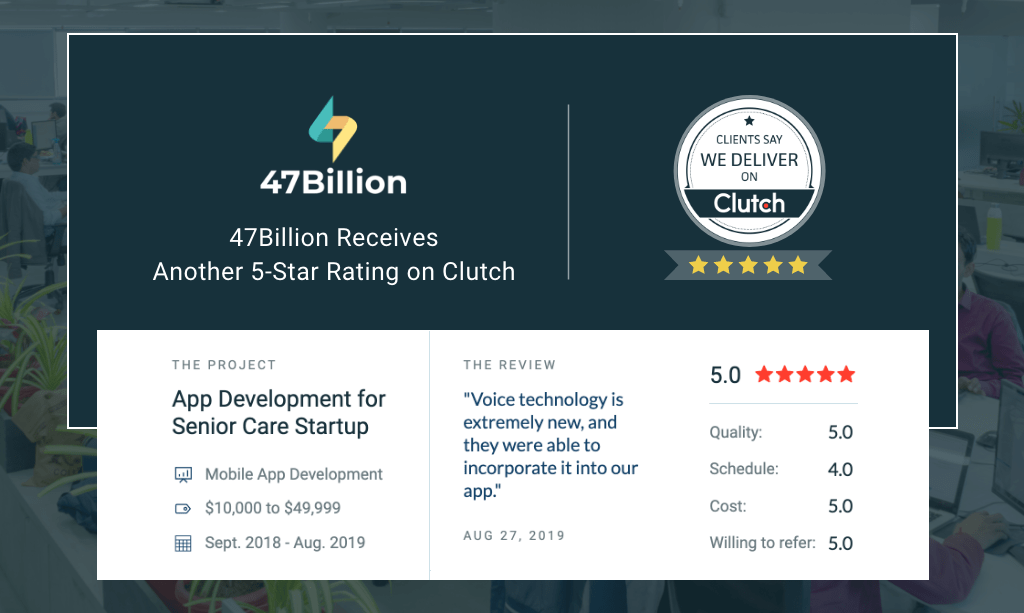 Did you know that the majority of visitors spend less than 15 seconds on a web page?

That statistic might make you nervous — you only have 15 seconds to impress a new user before they're gone for good.

However, one of the easiest ways to increase the time spent on your platform is by improving your user experience (UX). That's where we come in.

In a recent review on Clutch, a B2B ratings and reviews platform, one of our clients gave our services a 5-star rating, describing the mobile app we developed for them as "very intuitive and easy to use."

Over and over again, we've shown that we can deliver quality products that will keep your users engaged. Want proof? Check out our profile on Clutch. Based on feedback from our clients, we are listed among the Top firms in Bengaluru for UX, with an average of 4.9 stars.

During this project, we sought to simplify some of the processes for caregivers by developing a mobile app that allows them to automate functions such as medication reminders. We also conducted additional research that led us to include cutting-edge voice technology that would make this app as helpful as possible and make it stand out in the market.

Projects like these remind us how technology can make life easier and help people manage their time. More than anything, we consider ourselves problem solvers, and we're happy that we were able to create a solution that will help users and their caregivers.

You can also find our work on Clutch's sister site, The Manifest, business news and how-to website. Among big data companies, we are listed in the top 15 in India. We wouldn't have made it this far without the help of our clients' kind words.

If you're more interested in the design services we offer, take a look at Visual Objects, Clutch's third platform that features our work. Here, you'll be able to peruse a visual catalogue of top creative firms and compare our work to theirs:
We're proud of the exceptional products we've delivered over the last six years, and we can't wait to get started on more. To learn more about our services, please reach out to us.
Share