How to Leverage Blockchain to Transform Tech-enabled Healthcare? 8 Real-World Applications
25 Nov 2022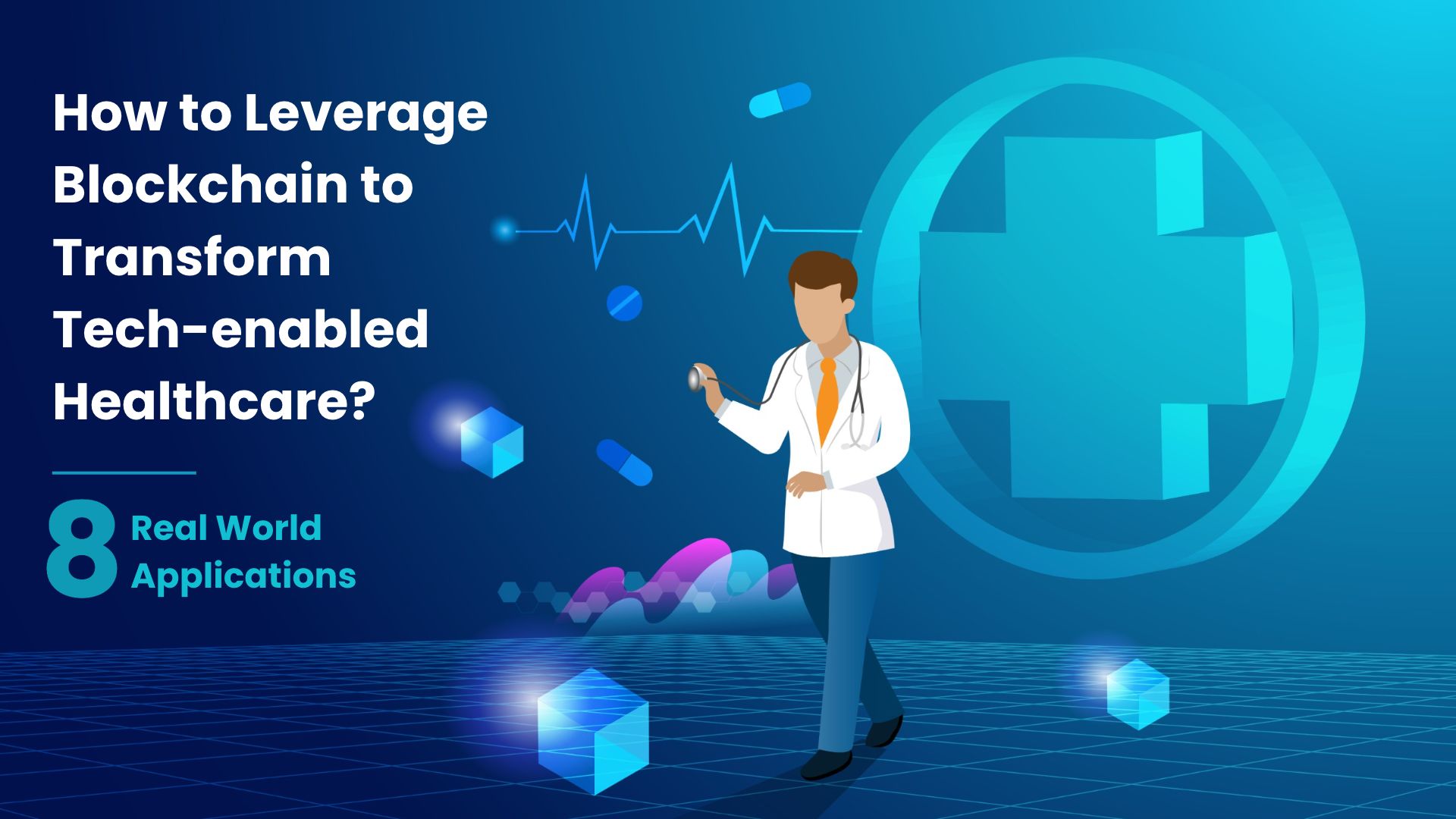 The healthcare industry is rapidly adopting Blockchain as the next best thing since sliced bread. Blockchain carries the potential to transform the healthcare industry entirely with its compelling features like greater security, privacy, and accessibility.
A decentralized node network with data stored in it is called Blockchain. Here are a few aspects that make Blockchain so popular.
Enables secure exchange of essential data while maintaining its confidentiality and security.
It is an ideal solution for securely storing all relevant documents in one place
Blockchain's distributed databases are both tamper-evident and impenetrable.
It makes data transactions transparent and traceable
It ensures a trusted data management system for consumers.
Blockchain improves the speed, clarity, and trust of digital transactions. Industries like banking, finance, healthcare, and security rapidly adopt Blockchain technology for various uses.
Blockchain and Healthcare – The Next Big Thing
The Global Blockchain in Healthcare market size is expected to reach USD 1189.8 Million by 2028, exhibiting a Compound Annual Growth Rate (CAGR) of 61.3% during the forecast period. (Source- Vantage Market Research)
Here are a few reasons Blockchain is the next big thing in the healthcare industry.
Blockchain securely stores and shares confidential patient data between hospitals, diagnostic labs, drug companies, and doctors. It enhances the efficiency, security, and transparency of sharing medical data. Medical institutions gain better insights and improve the analysis of patient information with the use of this technology.
Using Smart Contracts for medical supply chain, vaccination verification, provider credentialing, patient data protection, and data connected to life sciences clinical studies.
·Blockchain can help simplify numerous essential but mundane administrative tasks. These include checking eligibility, prior authorizations, benefits coordination, claims status, and a wide range of interoperable interactions between payers, providers, and financial institutions.
Blockchain enables medical researchers to communicate, exchange work, and obtain permission for data gathering and access.
It defends healthcare systems' data against ransomware and other online threats.
Blockchain makes healthcare supply chains more dependable, manageable, and affordable.
This article will discuss Blockchain's critical advantages and practical use cases in the healthcare industry.
How can you leverage Blockchain for your healthcare business?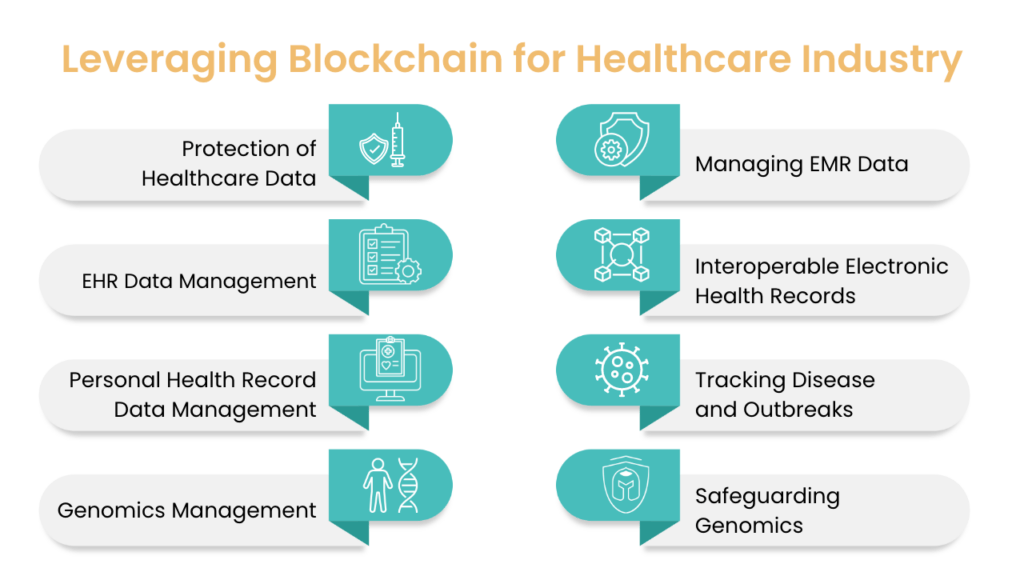 Protection of Healthcare Data
Security is a significant problem in the healthcare sector, and Blockchain is an ideal solution to keep our critical medical data safe and secure.
Around seven hundred data breaches were reported between July 2021 to June 2022. These included health and genomic testing records and banking and credit card information.
Blockchain helps maintain an incorruptible, decentralized, and transparent ledger of all patient data. It is private and transparent, obscuring any person's identity with detailed and secure protocols that can safeguard the sensitivity of medical data. The technology's decentralized nature also enables patients, medical professionals, and healthcare providers to share
Managing EMR Data
Electronic medical records (EMRs) contain incredibly confidential and sensitive information about a patient's diagnosis. These reports are shared across the healthcare ecosystem and may lead to compromised data.
A blockchain-based electronic medical records system would ensure that medical records are private, secure, and readily available.
EHR Data Management
Blockchain makes electronic health records (EHRs) more accurate, secure, and affordable to produce and maintain.
EHRs contain identifiable and sensitive patient information. This data is transferred between health systems, and healthcare providers need a secure environment for exchange. Blockchain technology facilitates safe data sharing by enhancing interoperability and securing repeated tasks for effective EHR sharing and viewing.
Interoperable Electronic Health Records
Data sharing between different EHR systems still needs to be improved since EHRs contain identifiable and sensitive patient information. Data transfers between health systems and healthcare
providers need a secure environment for exchange. Blockchain technology offers a way to facilitate safe data sharing. Blockchain technology makes this interoperability effortless and secure repeated tasks for effective EHR sharing and viewing.
Personal Health Record Management
Personal Health Records, or PHRs, are individuals' private and secure medical records. They can allow access to, management of, and sharing of their health information.
This clinical data can be secured via Blockchain with a secure record management ledger. Blockchain offers many abstraction levels with granular access controls on smart contracts on PHR and restricted access permissions.
Tracking Disease and Outbreaks
The world came to its knees during the COVID-19 pandemic. During that time, the medical community scrambled to gather data fast, communicate the existing treatments, and offer preventive actions that may work.
It was also imperative to monitor the patients impacted by the pandemic. Their tests, medications, vaccines, fee payments, locations of nearby medical facilities, and hospital resources had to be tracked very closely.
Blockchain Technology can be leveraged to check these disease outbreaks as they allow the data to be captured accurately. This can help the global healthcare community take relevant action and share information transparently.
Genomics Management
Genomics is a specialized discipline that involves sequencing and analysis of genomes using bioinformatics and high-throughput DNA sequencing.
Blockchain's decentralized nature enables quick and secure genomics data transfer across enterprises. It increases efficiency and prevents interference with the transmission of genomic data and errors, which speeds up the process. Data sharing consequently becomes more straightforward, more streamlined, and quicker.
Safeguarding Genomics
Genomic data is used for predictive analysis and to determine a data model for further product development. It is sensitive to privacy and it is essential to incorporate security measures such as access control and confidentiality protection.
Blockchain can securely store billions of genetic data points and is the ideal technology for this expanding sector. In order to expand the database and give scientists access to crucial information more quickly than ever before, it has even developed into a marketplace where people may sell their encrypted genetic information.
Blockchain makes it feasible to create a secure genetic data management system. It assures the safest encryption system for all genome data for maintaining privacy.
Conclusion
Blockchain technology has the potential to transform health care. It enhances data security, privacy, and interoperability. Blockchain technology supports digital health by simplifying safe data transmission across the healthcare ecosystem.
If you are interested in leveraging blockchain for your healthcare project, write to us at hello@47billion.com.
Share