User Experience vs Customer Experience – What should your business focus on?
25 Jan 2023
What is User Experience (UX)?
Customers' interaction with your products, website, or app is called user experience (UX). It is evaluated using metrics including clicks-to-completion rates, error rates, and abandonment rates. A product or technology has a bad user experience if it is challenging to use or navigate.
Your UX game is powerful if your customers say yes to these questions-
Is the design of this website appealing?

Is it simple to access and explore the information?

Can I access this website from a desktop or a mobile device?
What is Customer Experience (CX)?
The customer experience (CX) focuses on the customer's overall interaction with a business.
"It is the sum of customers' views, emotions, and beliefs about your brand during the whole buying process and after sales experience."
Customer satisfaction, loyalty, and net promoter score are parameters used to measure customer experience. Here are the questions you need to address your CX –
Did my customers experience a smooth transition from start to finish?

Was the customer service agent friendly and accommodating?

Would my customers use this business again or suggest it to a friend?
Getting the perfect balance of customer and user experience in your interactions is imperative. We want to share two use cases where a mismatch of CX and UX can lead to a disgruntled customer.
Excellent UX, unsatisfactory CX
Customers could smoothly purchase airline tickets via the website and/or application. However, they had a tough time getting in touch with customer service for refunds.
Complex UX but swift CX
A software program or app may have a steep learning curve, but its customer support representatives offer fantastic assistance in resolving your issue.
Your business will benefit the most when you pay equal attention to both customer and user experience.
Read here – Why Do Lean Startups Outsource User Experience Development For Fast-Paced Growth?
Let us list out the perks of collaborating your UX & Digital CX –
Enhanced customer engagement: CX and UX can be improved by completely grasping the customer's interactions with the product and the company.

Advance understanding: By alerting CX to changes in information search, usage patterns, and inbound communications, UX statistics and analytics can help improve customer experience. A product, website, or app may need to have its UX revised or revitalized in response to the corresponding changes on the CX side (such as decreased satisfaction).

Brand representation: Working with the CX team will help you better communicate the company's brand identity. The CX and UX decisions need to consider the brand at the center.
The Top 4 Customer Experience Trends to Follow in 2023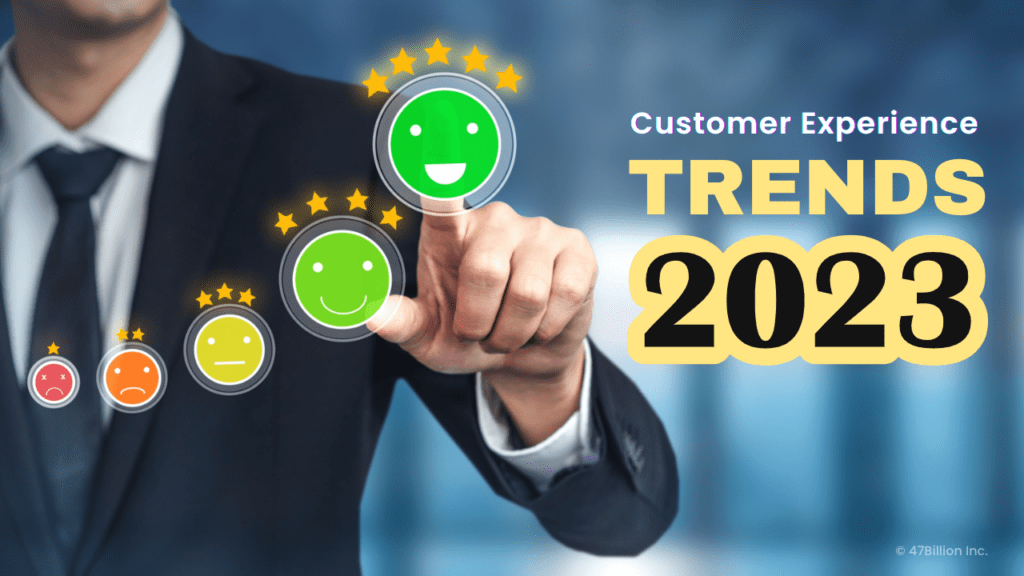 When creating deep and enduring connections, brands are becoming increasingly aware of the significance and value of the customer experience (CX). Data shows that CX is the top priority for businesses looking to increase their technology spending in 2023, with 65% of businesses wanting to do so by an average of 24%. Let's overlook the top digital customer experience trends that will rock the UX universe in 2023:
1. The Metaverse
Although people can only predict what the metaverse will look like in the upcoming decade, companies are already utilizing the fundamental ideas to engage with customers in increasingly novel, engaging ways. It's easy to see the appeal: consumers want their relationships and interactions with brands to be memorable and experiential in 2023.
Brands must design creative and distinctive consumer journeys to remain relevant in the upcoming times. Metaverse platforms are emerging as one of the most significant ways to accomplish this, which also holds for offline trade. For instance, retailers will likely continue to offer in-store experiences that customers want to discuss with their friends and post on social media.
2. Customization
Developing goods, services, and personalized offerings will be among the most common ways to provide excellent client experiences in 2023. Who doesn't love to feel special? Everyone enjoys something particular to them.
Innovation enables companies to scale up personalization. This transcends targeted marketing, in which companies approach us with advertisements and deals catered to our preferences.
3. Responsible Customer Experience
As more of us base our purchasing decisions on ecological, environmental, or political factors, conscious consumerism has gained popularity across many industries.
This is reflected in the digital consumer experience, where companies allow customers to choose an ethical course of action as part of the purchasing process.
By letting us know we are contributing to the environment or society while engaging in consumerist behavior, providing customers with ethical options like these produces an experience.
4. Authentic
Businesses and brands understand that in 2023 they can build better, more valued digital customer experience by earning our confidence. This entails answering essential questions honestly and openly throughout the customer journey, embodying their beliefs, and—most importantly—upholding them.
A brand's digital CX must let its human aspects emerge to achieve authenticity. Your customer support is upfront about errors and prompt to fix anything wrong while the procedure is being carried out.
Conclusion
Although CX and UX differ in several ways, these two will increasingly overlap as technology grows more pervasive in our daily lives.
Consider the entire client environment rather than just the app or website you are working on if you want to be a successful UX designer. Instead of focusing only on the user, step up your game and future-proof yourself for the eventual merging of the CX and UX.
All business departments must work together to ensure that all consumer touchpoints are tested for friction and optimized to outperform the competition.
In a UX world that prioritizes digital technology, successful digital customer experiences are crucial. 47Billion assists businesses in adopting a human-centric approach to the digital experience and journey. Visit www.47billion.com.
Share